There was no one to do the discussion for book club so I got drafted. The problem was, no one had read the book except me, so I needed to do a seminar on it. The book was "Leadership for Saints" by Rex D. Pinnegar and somebody else. It all went really well, but the next couple of days I collapsed like I always do when I stress out.
Rob is busy with work and webelos. One of his home teaching families lost their job so he has been helping them get their resume ready and helping them know where to look for a job. He has been really calm since Christmas break.
Chris is busy preparing for solo and ensembles and finishing up the essays for collage. He finally got his board of review at the last second and is now and eagle scout. Wohoo! He was waiting to turn in his applications because he wanted to put down that he was an eagle scout on them. We were like OooooH.
Eric is doing DI (destination imagination not Deseret Industries) again and they are gearing up for their competition. He gets to read Romeo and Juliet in English. We had to fill out a form about the traits of the perfect mate for him. That was really hard. He is not ready for a mate and I haven't really thought much about it. He is also busy being Teacher's Quarum president and all the attendant responsibilities.
Mark has joined DI (did I tell you this already?) He chose to go to DI this weekend instead of the campout. It was a tough choice for him but it makes my life a lot easier.
John went to his first official Pack Meeting yesterday. He did really well for him. We went over the wolf book a little before we went so he kind of understood. He had a really hard time going to school on Monday because I forgot to change the calendar from a vacation day to a school day. Your dad was totally surprised that John actually uses the calendar. I was taking Daniel to his autism MRI so I didn't have to deal with it, but if I had been home I would have noticed and fixed it. John thought we had this Monday off because of Martin Luther King day so he was really mad.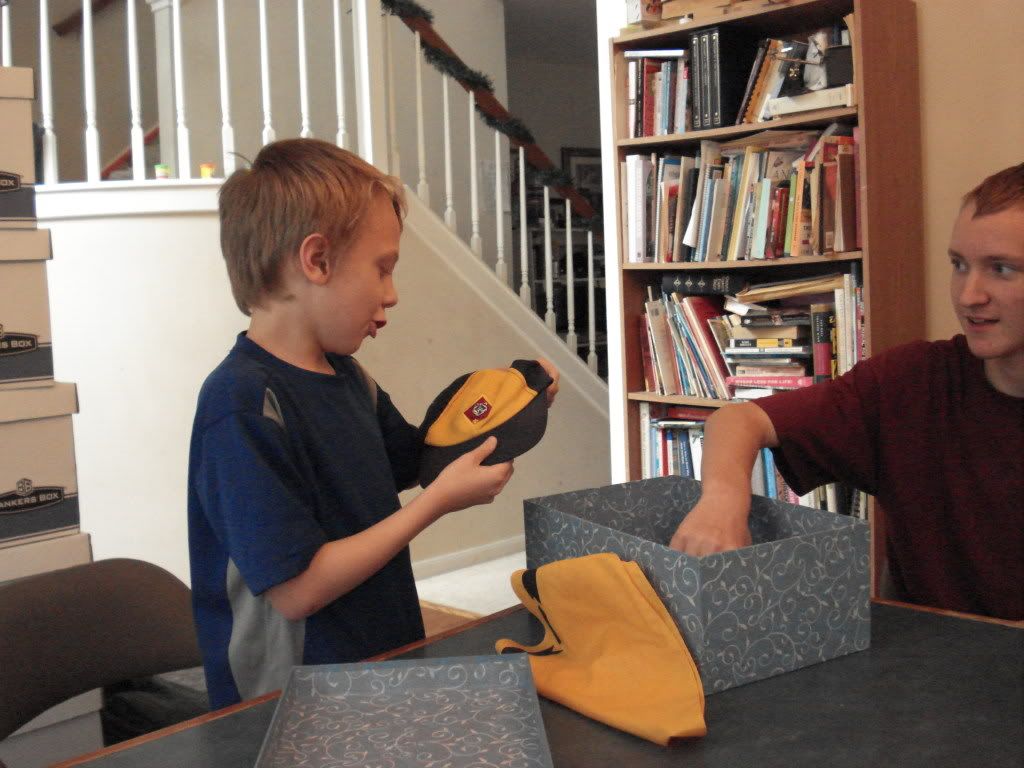 John got a uniform for his birthday.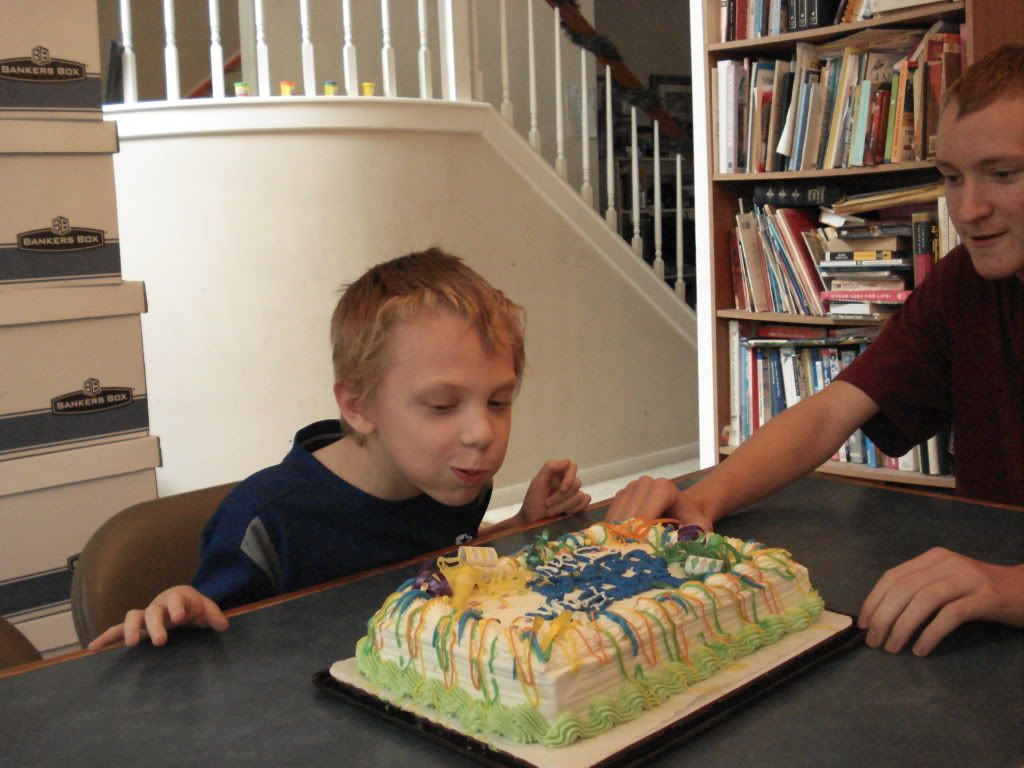 John also had a birthday. He is afraid of the fire on candles so we haven't gotten him the room this past year for any of the traditional blow's so we skipped the candles altogether on his cake and he pretended to blow out the candles. I love that he pretended.
Daniel is his happy self. He has a little runny nose, like always, and he has that red rash under his nose. He also has a very dirty hand where the tape for the IV was. I tried scrubbing it off, but his hand is a little bruised so it hurt him too much. His teachers tried as well, but we all decided to just let it wear off. I don't have much time to let him soak in the bathtub this week. Oh, Daniel said the funniest thing on the way to Texas Children's on Monday. He saw one of those buildings with the upside down cones on top. I think it his a really big heater/air conditioner for the medical center. Anyway, he said, "wook, mom, volcano!" I laughed and laughed, he kept saying, "I sorry". I tried to tell him that volcanos were mountains not buildings, but of course he has never seen a mountain that he remembers. Last night when we were driving to and from pack meeting he was talking about no sun and stars and dark. He is fun to listen too because everything comes out in an odd way, but we can understand him.
As for me, Monday was Daniel's autism MRI. Tuesday was Band boosters meeting, Wednesday was pack meeting (awards take up my days) today is Mark's asthma appointment and I am going to the allergist (same doctor) and tomarrow I leave to go to Derrick's sealing in Washington. Oh, and your dad has to report for Jury Duty. Saturday is region band for Chris and Eric. I am glad that Mark will be home on Friday night because we aren't sure if Rob will be home before Chris and Eric have to go to Region. When we thought Mark was going to the campout we were trying to figure out how to make it all work if your dad ends up on a jury. Btw I will fly back to Houston on Monday.
I gotta go pick up Mark now. Actually, I'm a little late.