This week has been calmer. Even with babysitting Rory. She was so funny. Derrick and Lindsey dropped her off at about 2:30. She was happy and enjoying the new things to explore. I basically tried to trap her inside the couches and that was enough. When Mark and Eric showed up after school, she freaked out. So I held her for a couple of minutes and then Chris came home and she freaked out again, but it only took her another couple of minutes and she decided they were all okay. Then she fell madly in love with Chris. She couldn't take her eyes off of him when he was in the room. Every time he sat down, she would crawl over to him and stand up at his knee. John tried to talk to her. He said, "When I was a baby I baby talked too." Daniel thought she was wonderful, but he got a little frustrated when she was belly laughing at Eric acting silly, but wouldn't laugh at him. He took it pretty well though, the way he takes most things. In the end he just lay down beside her and touched her gently. He also kept trying to crawl into the pack and play (playpen/crib). It took a lot of telling him no and he was too big and he would break it to convince him not to get in. She kept us all busy Monday night with FHE and everything.
On Tuesday, I had a doctor's appointment and so I took her with me. I discovered that I couldn't carry her and the car seat. The car seat was heavier then she was. She couldn't weight more the 15 lbs. She didn't hurt my back at all. I made her stand up, when she wanted picked up so I didn't have to bend over so far. The doctor gave me some pain medication also which…well…I LOVE not being in pain!!! I can actually stand up, sit down, and bend over again. My hip doesn't even hurt. Wahoo! Sometimes, although I complain, I don't realize just how much pain I am in until it is gone. I knew I was struggling, but …It is just so nice, even if my head is a little foggy.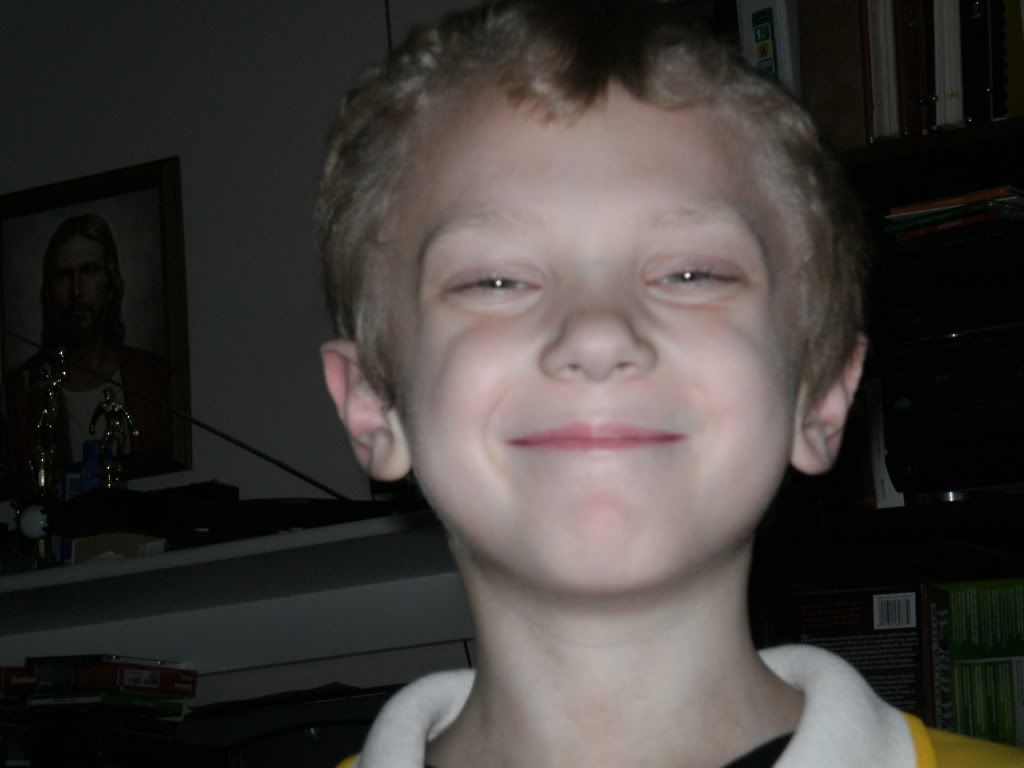 Yesterday, I spent the afternoon sewing on Merit Badges and rank badges. DH got a new shirt, so I had to do all the arm stuff for him. The new shirts have a pocket on the sleeve where the den leader patch goes. He insisted on being able to use the pocket so I couldn't just sew it closed. Xb (Is that how you do the emoticon? It doesn't look right.) Why didn't they just put the pocket on the other sleeve? Do they not realize what a pain it is to hand sew badges? Actually, because I ripped it off his other shirt, it had holes for the needle which made it a little easier. Mark earned his star rank about 3 months ago and once enough time has gone by, he is ready for life. Eric finally finished up those citizenship merit badges that he only needed to call a councilor and make an appointment. His leader and I finally nagged him into it. I think maybe Mark being ready for life also helped. Eric got his Life rank last Sunday.
Life has been pretty good this last week.